09.09.2010 - Our crystal necklace 74011539 is a member of the elite group of "trend making" products for this fall and winter. It has been chosen by profesionals from the huge offer of all Eclat de Mode exhibitors who came from more than 40 countries.

We are pleased that the style and quality of our crystal jewelery has caught the refined eye of designers of Paris. They placed and presented our accesories beside jewellery of famous labels such as Swarovski.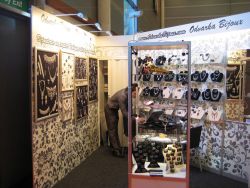 It is a good sign for us, and for you - our customers.

Martin O.