30.06.2010 - New product in our offer MC chaton balls / rhinestone balls . These luxurious beads are hand made from MC chatons and virgin brass components. They are usefull for fashion jewellery production. Stringing or other hobby creations.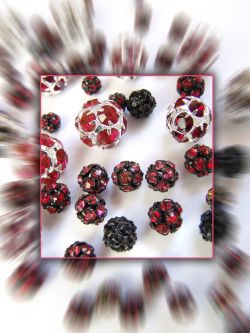 If the required balls are not in stock, we will get them for you asap.

Standart available colors except crystal and crystal AB are: Aqua, Lt.Saphire, Saphire, Montana, Jonquil, Topaz, Smokie Topaz, Black Diamond, Jet, Lt. Rose, Red Rose, Fuchsia, Lt. Amethyst, Amethyst, Hyacinth, Lt. Siam, Siam, Peridot, Olivine, Blue Zircon, Emerald.

Quantity discount for bigger orders guaranteed!