Jewellery - Beads - Trimmings
Welcome to our internet presentation. We are a business company focused on high quality Czech costume jewellery products. We are distributors of AG plus ltd and Inspiration(c) jewelry.
We carry attractive goods for wedding shops, fashion boutiques, fashion designers, hobbyshops, etc... Simply for everyone who is looking for fashion accessories, all sorts of beads and costume jewellery components, fancy appliques for dresses, shoes and boots, and for flat/shop interiors. Our products are made in the Czech Republic by professional designers with "sense for quality and originality". We are happy to say that our goods are produced in harmony with the ecological and working terms respected in the whole civilised world.
Our stock goods – ready for immediate expedition – can be viewed and bought in our e-shop wholesale and retail, which is being continuously enhanced.
We are happy to pay a visit to your shop/company and bring you goods you show your interest in. We are not focused just on wholesale. We are a flexible company that due to its experince in costume jewellery industry is able to ensure unique conditions for unique orders, that by their nature exceed the wholesale conditions.
Dear customers, all orders recieved during our leave will be shipped in the fastest possible term when we are back in the office. Enjoy the summer time :)
We have just added nice
soldered rhinestone buttons
to our products line. The actual stock quantity is limited. However we can produce all (and more) designs at actual (reconfirmed) prices. Minimal qty is 24 - 36 pcs per design. You can choose your own color variant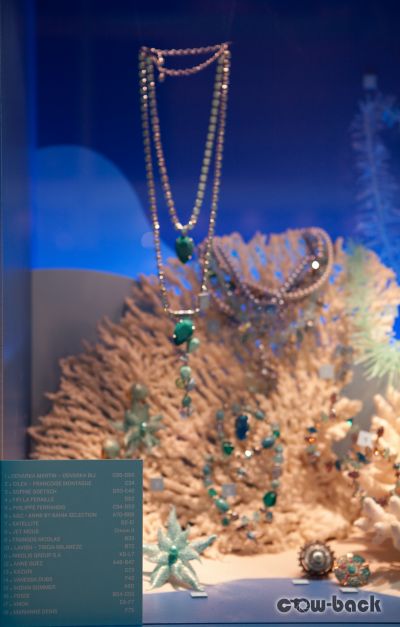 We are very pleased that or design - odvarkabijoux - was selected into the "fashion trends 2012" section of Eclat de Mode - Bijorhca.
Necklaces made from
turquoise special handmade stones
and
clear crystals
grab attention of Elizabeth Leriche - the chief desinger of the section.
You can get all the sugested and similar necklaces, earrings and bracelets from stock in our eshop or place bulk order :)
News
CZK / EUR exchange rate has been updated to 24.00
As usually in February we would like to invite you to see our presentation on the Kabo - Styl fashion fair. It takes place from 15th to 17th February. Location is Brno tradefair.
We carry stock of goods with us so that you can purchace our jewellery right on the place!